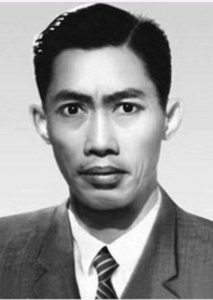 Biography of Founder Nguyễn Lộc 
Founder Nguyễn Lộc was born on April 8 in Nhâm Tý (24-5-1912) in Hữu Bằng village, Thạch Thất district, Sơn Tây province (now Hà Tây), the eldest son in a family of five siblings (three boys and two girls). His father is Mr. Nguyễn Đình Xuyến and his mother is Mrs. Nguyễn Thị Hòa.    
Born and raised under the country dominated by the colonialists, aware of the duties and responsibilities of the young people towards the nation, founder Nguyễn Lộc simmered the idea of ​​training a healthy youth team. the ability to use martial arts, with a patriotic spirit and bring a spirit of help to society.
In addition to cultivating education and morality, founder Nguyễn Lộc was also working hard at collecting, studying and practicing most martial arts at the time. Realizing that every martial art has its own advantages and characteristics, the Founder said that there is no martial art that is perfectly suitable for the small slender body of Vietnamese people. Conscious that in every fight the spirit and honor are still two important factors that determine the success, so the founder wants to find a self-defense method of Vietnamese people that represents the spirit of autonomy and indomitable, in order to fight for the development of the mighty spirit and national pride.
In the end, the Founder found his own way, forming the "Revolutionary of Mind and Body", which is the way to train healthy people in both Mind and Body, building up the consciousness to improve oneself about the whole Body – Mind – Spirit to be fully capable, virtuous, ready to serve society and mankind.