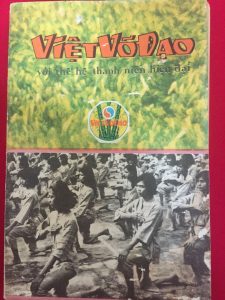 Viet Vo Dao With modern youth generation
                                     Table of contents
Chapter 01- Viet Vo Dao With modern youth generation – Grand Master Lê Sáng
Chapter 02- Human values ​​of Viet Vo Dao – Grand Master Lê Sáng
Chapter 03- Philosophy about martial arts – Grand Master Lê Sáng
Chapter 04- A few orientations for expressing the emotional life style of VVD-Grand Master Lê Sáng
Chapter 05- The three orientations of the student of Viet Vo Dao -Grand Master Lê Sáng
Chapter 06- The concept of human behavior of Master VVD – Grand Master Lê Sáng
Chapter 07- Selection criteria for Grand Master III – Grand Master Lê Sáng
Chapter 08- Periods of martial arts and character – Grand Master Lê Sáng
Chapter 09- Modern martial arts and martial arts process – Grand Master Lê Sáng
Chapter 10- Viet Vo Dao direction – Grand Master Trần Huy Phong
Chapter 11- Personnel role in organizations and p mass movement – Grand Master Trần Huy Phong
Chapter 12- Viet Vo Dao and life -Grand Master Trần Huy Phong
Chapter 13- Viet Vo Dao broadcasts into the human community – Grand Master Lê Sáng
Chapter 14- Our great march – Master Nguyễn Văn Thư
Chapter 15 – VVD's contributions to national independence and construction – Master Trịnh Ngọc Minh
Chapter 16- The important and necessary level of the Viet Vo Dao Trainer – Master Trần Tấn Vũ
Chapter 17- Youth in front of peace – Master Ngô Kim Tuyền
Chapter 18- Changing life, changing people – Master Nguyễn Văn Nhàn
Chapter 19- Lay crushed stone – Master Diệp Khôi
Chapter 20- Thousand years of flying clouds – Huy Đạo
Chapter 21- Self love songs – Trung Đạo 
Chapter 22- Youthful zeal – Master Nguyễn Văn Chiếu
Chapter 23- Longevity Tower – Master  Nguyễn Văn Sen
Chapter 24- Youth Reflecting on Vietnam – Master Trần Văn Trọng
Chapter 25- Revolutionary Mind Body – A life full of faith and love building – Master Dương Viết Hùng
Chapter 26- Spring on mountaintops – Master Nguyễn Chánh Tứ
Chapter 27- virtue and leadership – Master Phạm Văn Vỹ
Chapter 28- Eyes – Master Nguyễn Văn Hóa
Chapter 29- Hands and brains – Master Tran Van Nhieu
Chapter 30- Few words to his new friends Viet Vo Dao – Master Phạm Quang Trung
Chapter 31- A letter of mind – Master Đặng Hữu Hào
Chapter 32- Letter to his mother – Master Nguyễn Ngọc Phước
Chapter 33- Spring Letter to friends – Master Lê Hữu Thanh
Chapter 34- A confidant of a blue uniform – Master Lê Đức Phẳng 
Chapter 35- Inspiration feeling – Master Lê Thanh Liêm
Chapter 36- Việt Võ Đạo music direction – Master Lương Thuận Vui
Chapter 37- Uniform color -Master Lê Đằng Phương
Chapter 38- The Sandbag stories -Master Tô Văn Vượng
Chapter 39- Steel hand and gentle heart – Master Quách Hữu Thạnh
Chapter 40- Live – Master Giang Quân Thiêm
Chapter 41- Discussion for advancement – Master Nguyễn Đình Nam
Chapter 42- Viet Vo Dao be a politician – Master Phạm Lương Thịnh
Chapter 43- I love blue uniform – Master Nguyễn Văn Hưng
Chapter 44- Word for my Vietnamese mother – Master Lê Hoài Tống
Chapter 45- Eternal lyrics – Master Dương Minh Hải
Chapter 46- Status and morality of the chief minister – Grand Master Lê Sáng
Chapter 47- Poet Proverb – Grand Master Lê Sáng
******************************************* **
Chapter 01- Viet Vo Dao with modern youth generation – VSCM Lê Sáng
There are two major issues in the field of national leadership that have become the eternal problems of those who worry about the pre-emptiness of their homeland: economic issues and education.
Our modern generation of young people is currently "stuck" between the conflicts of a special postwar period called "half peace half war". We all understand that a well-educated and fruitful education must have a prosperous economy to support, because living standards are high, new education is adequate, then using new knowledge in wealth advanced so that the standard of living is higher. But in fact there are so many internal contradictions that the modern generation of youths suffer greatly. We say peace at the same time as preventing recurring war. We say development in a slowdown economy requires many saving measures. We speak steadily amid many unresolved or emerging uncertainties. Our youth – directly influenced by this situation – has suffered greatly. Long-term war has a direct impact on the life of youth, making young people strive to promote their self-reliance to adapt to the state of the country. "Have to do something" – our youth thinks so, and we think the same with modern generation youth. Yes, something must be done to escape and rise for yourself, for the family and for our people to be better and better. Something to do, we all agree easily, but – What to do?
The long-standing habit makes us enjoy planning and estimating work on the basis of available methods and facilities. It is basically the "Fortune of Mother" and the help of his father. The fortune of that mother is tattered and tattered after years of war. The help of his father was also vague, because his father was also a victim of a persistent war, burned his youth in the war, was passionately opposed and enjoyed the taste of the fruit. bitter, to become "tired heroes". Impotence is displayed in almost every district, making young people disappointed. Sometimes, disappointment turned into rebellion, like youth with the 1963 Politics, with the praising aspiration to oppose the 1966 Vung Tau Charter. But where did the youth go? The emptiness is too great after the victory is too easy, making the youth more lonely. The vague problem has become a serious problem: what to do and what to do now?
The image of Mother's fortune and the help of Father's father has become legendary, for the reasons of war, poverty, death and hatred that have dried up the vitality, languished in will, withered strength. of the older generation.
Thus, the life of youth only looks at the Heart of Revolution: how to be strong and stable, to be able to endure and stand up in life. Yes, it is possible to deduce and judge, adapt to every situation, and get rid of all deception that is disguised in any form. It is the "fire" Viet Vo Dao, the spirit and energy of Viet Vo Dao wants to communicate to modern generations of youth.
So, what should Viet Vo Dao do for young people? What should young people think and what to do before not so good practices often occur around them?
The prerequisite is, young people must have a strong energy. In order to do so, it is necessary to absorb the knowledge and energy of his father by communication and training, to:
– CONFIDENTIAL: only believe in one self, in the national tradition, trust in the ability and work force of one can attain, but it must be very simple, humble, polite and delicate.
– SCIENTIFIC: Agile to adapt to all favorable and inverse circumstances, with a spirit of enthusiastic insight, but also very disciplined. Squid ruler, live in harmony with others and respect for social order.
– HOW TO MAKE TAM THAN: must be strong, good at martial arts, mind-brain is peaceful and know the future orientation, while cultivating the noble, chivalrous and sociable spirit, applying the revolutionary mind theory into life by maximizing our ability to help advance and understand.
– ENTERTAINMENT: (but must be calm and genuine) plant trees to eat fruit, manipulate to enjoy. Overcoming obstacles and walk over obstacles. Despite suffering, bite teeth to go forward. No more self-blame, indifferent indignation.
In short, young people need to adapt to all externalities by cultivating their spirit and self-cultivation, independence, self-control and self-victory. the spirit and ability of self-cultivation, self-reliance, self-control and self-victory to rise and develop, will naturally help young people overcome temporary difficulties and challenges but create the future …
That is what Vietnam Martial arts bring back to youth. Viet Vo Dao Fire must light in the mind and body, the generation of modern youths who are energetic, enthusiastic, trusting and loving.